Hellooooo!
So I although I am finally getting around to posting this during Virgo season I need to make it highly known that I reps for Team Leo!!! The
best
of the zodiac! RAWWWWR! Lol! I had a low key birthday this year, I went out to dinner with a few friends and had cake and drinks later at my place. The only thing that was so bummy was all the damn rain, which irked me because black people act like they MELT in rain and will not move for noooobody! lol All in all I had a good time and I'm hoping this new year brings new opportunities and interesting happenings into my life! Now onto the photos...
Anddddd, why yes, I have new hurrrr!
Unfortunately, my camera is still crappy so it didn't catch the true purple of this lip but this is the best photo that's close to color! It was purple purple, not burgundy :)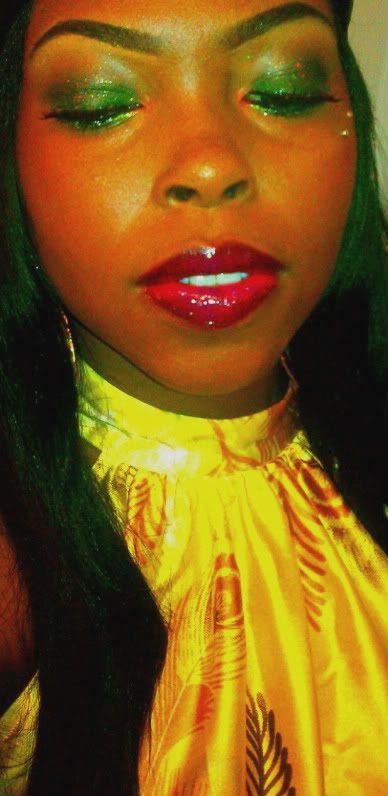 Face => Studio Tech foundation in NW47 (New item, review soon!) La femme blush in Sienna and grape (mixed), MAC Fix+
Brows => Couldn't find my brow pencil in stud so my brows are slightly darker than usual because I had to use some old black brow pencil I had lyin round :/
Eyes => (Eyeshadows are all from Inglot palette) Green on lid, brown in crease with orange right above and light tan for highlight, MAC Blacktrack fluidline. The tiny shiny particles are MAC's Reflect Gold glitter which I patted over the outer corner (Yall know I HAD to have my glitta!!!) andddd My dolla holla green glitta liner is whats on my lower lashline, MAC #3 Lashes
Lips => MAC Nightmoth l/l, All of My Purple Life lipglass (LE)
I was so in love with my dress that I wore to dinner and I wish I had pics but I don't! As I am a shoewhore I do, however, have a photo of the shoes I wore with my dress.
They are the Jessica Simpson Dany's (which are also a true purple purple) and are probably in my top 5 of favorite shoes! I always feel so 70's in them and they're COMFORTABLE! Nothing much of else going on with me besides that! Hope everyone had a great week!
xoxo.