Salutations.
Yall know I love a bold red lip, and for me it doesn't get much better than Russian Red for that category.
THE GOOD: Easy to apply, I've heard that other reds like Ruby Woo apply like crayons but this isn't the case here. A pro for me is that it's matte, as I'm not of fan of lustre looking red lipsticks. This doesn't feather and doesn't absolutely need a lipliner. The staying power on this is AH-MAY-ZING! I'm almost sure I wore it several times for 6+ hours without reapplying
or significant fading. And most important. It makes your teeth look WHITEEEEE. Like I mean, mine aren't yellow or anything but anyone should be able to appreciate an instant teeth brightener in a small tube, yes? :)
THE QUESTIONABLE: It's a matte. For some people that's a con because it's drying. But almost all mattes are drying, ok? Ok.
*Warning: Red lips may incite laughter, spontaneous webcam photoshoots and temporary (or permanent) Iamtheshitness syndrome*
Rates? *drumrolls*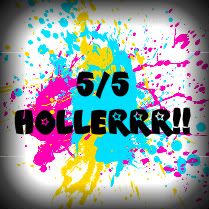 My favorite bright red! What's yours?
xoxo.