So, I typically don't do wash and goes because I don't really care for them between certain lengths of hair, so I haven't done one since about August 2010 since I first BC'd. However, I was in a rush trying to make a final then an appointment after so I didn't want to look a total wreck so I decided it couldn't hurt to try. In the end I was EXTREMELY pleased with the way it turned out! Like really. It was about that time for me to shampoo so I shampoo'd using Herbal Essences Color Me Happy 2 in 1 (started using because I found it at my Rite-Aid for $1.12 YES and now I LOVE it) then I conditioned with Tresemme Naturals conditioner. I typically let my conditioner sit in for about 5 minutes or however long it takes to wash my face whichever is the longest. I shake shake shake then lightly towel dry. I used a oil/leave in mixture before using Cantu Shea Butter leave-in conditioning cream. I then put whatever headband I plan to use on (this day I wore a shoe lace, don't judge me) and use Eco styler gel to lay down my front and a toothbrush to brush it into a nice shape. I then took some gel (not a whole bunch) and put it on the tips of my hair. I then used the tips of my fingers to rake the product on my tips. Since I didn't want to walk around with wet hair I used my blow dryer on a cool setting to get it mostly dry before leaving out.
Results
: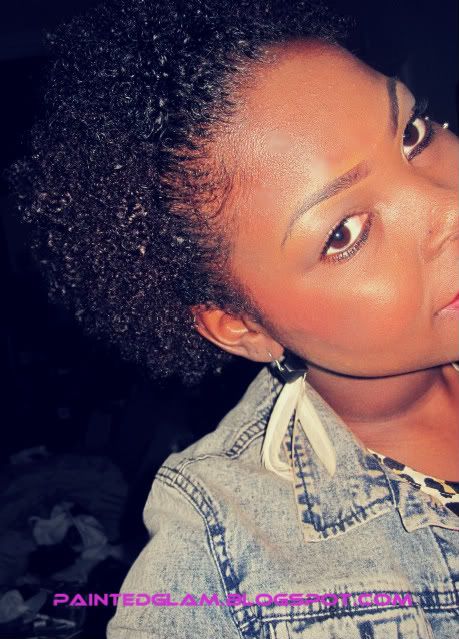 I'm definitely more likely to wear wash and go's on a more regular basis now, especially since it's warmer and I loved the results. My hair did not feel crunchy at all and was extremely soft and defined. I felt like I could have stretched it for a few days but later the next day I did another weave (post coming soon)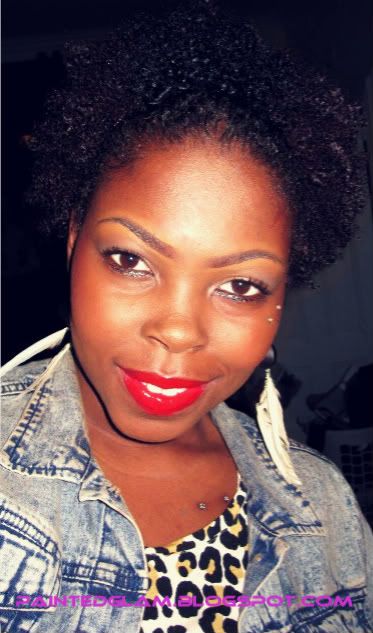 Face => MSF natural in Dark, Blunt for contour, La Femme blush in Red (higher on my cheekbones) and Sienna (on the apples)
Eyes => Black glitter liner (from my $1 store haul!), Maybelline Falsies mascara
Lips => MAC lipliner in Brick, Russian Red lipstick, Clear lip gelee
*sidenote: All clothing and accessory items seen in pictures came from H&M.*
In case you need any particular reason to absolutely LURVE Russian Red like I do, #1 *drumrolls* Your teeth will never look WHITER! Everyone knows about the blue based trick! It's real! lol I tend not to wear anything on my eyes when wearing a bright lip but like I said before, you can never go wrong with a glitter liner! Overall, it was a lovely day and I received several compliments on both my hair & lipstick. What is a staple product for your wash n gos?


xoxo.