So I tried posting this yesterday but it seems blogger was down. I had an interview the other day and a lil bulb went off like hey, why don't you do a quick post on it. So here ya go! :)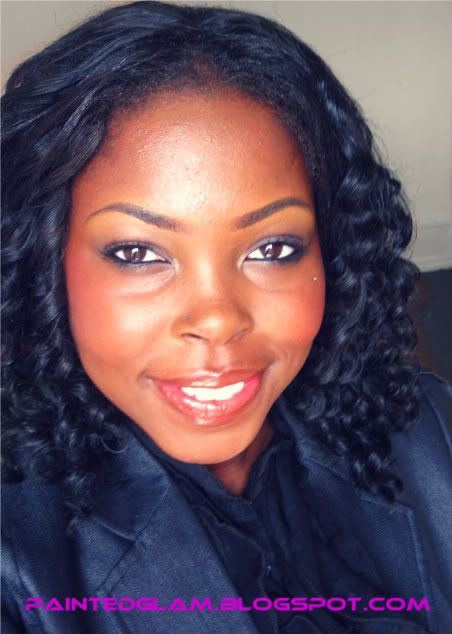 Eyes => Inglot matte brown, WnW black h2o liquid liner, Stiletto lash mascara
Face => Revlon Photoready in Cappuccino, MSF Natural in Dark, La femme blush in Sienna
Lips => Lined lightly with MAC liner in Spice, MAC Bright and Perky lipglass (Tartan Tale LE)
My Top 5 Interview Do's:
1. Set out clothing down to the shoes the night before! Also double check to make sure your alarm is set and set extra ones. This ensures you won't be late (BIG no no!)
2. Review whatever company/business you're interviewing for. I try to review general company information as well as what's generally going on in the industry. Prepare yourself and research questions you could expect and jot down reminders in the small notebook you'll carry.
3. GROOM! Appearance is everything nowadays! Do the eyebrows, have well maintained hair, clean manicured nails. For certain positions, make sure there's no visible piercing/tattoos. Ugh, people really pay attention to little shit like this...
4. Print out extra resume copies and make sure you have your purse packed. Typically my interview purse consists of a folder with my resume, phone, gum (remember to throw out before), company's contact info, small notebook, directions, pocket mirror, makeup, keys, wallet, cash, PEN, and I.D.
5. Stay positive! Always keep a smile in the face of adversity. Never look or feel defeated. I always feel if I'm not hired for a certain position, it wasn't meant to be. I'm a firm believer in energy balance and as long as you rebuke negativity, positivity and opportunity WILL always find a way to you :)
Yall know I find neutral looks boring, but unless you're interviewing for a "makeup friendly" job I think it's necessary as one wouldn't like to "turn" anyone with brash bright colors! As far as my hair I usually comb it out for a big hair look but for this particular interview I kept it "tame" and used curling lotion and holding spray to define the curls back down to a "normal" volume. Lol, also as you can see I take out my facial piercings as well as not to "offend" anyone (nose ring fully removed, backings off only on surface piercing) and I typically wear a watch on my wrist to cover up my tattoo. As you can see from my immense use of quotations, I am not a fan a hardcore fan of certain changes I make to myself in order to work because I feel that it is a misrepresentation of who I am. I always feel muted because I am that bold eye bright lips, in yo face accessories, high heeled type chick but most places don't find these things acceptable. But hey *sigh* the things we do for money... Lol, have any of you ever felt like jobs hindered your swag?
xoxo.